Hello everyone, we hope you had a great summer and are excited about the fall season that is now upon us. Our blog today is about the Toronto International BuskerFest for Epilepsy 2019. We start with our journey to BuskerFest, at the Corner of Coxwell Ave. and Eastern Ave.. There were people out directing people along with signage.
The Ole Tin Booth
We entered Woodbine park and we found ourselves in the Family Fun Zone. This is a picture of The Old Tin Booth by the Toronto Photo Booth Company. You could go and get a free photo taken of yourself.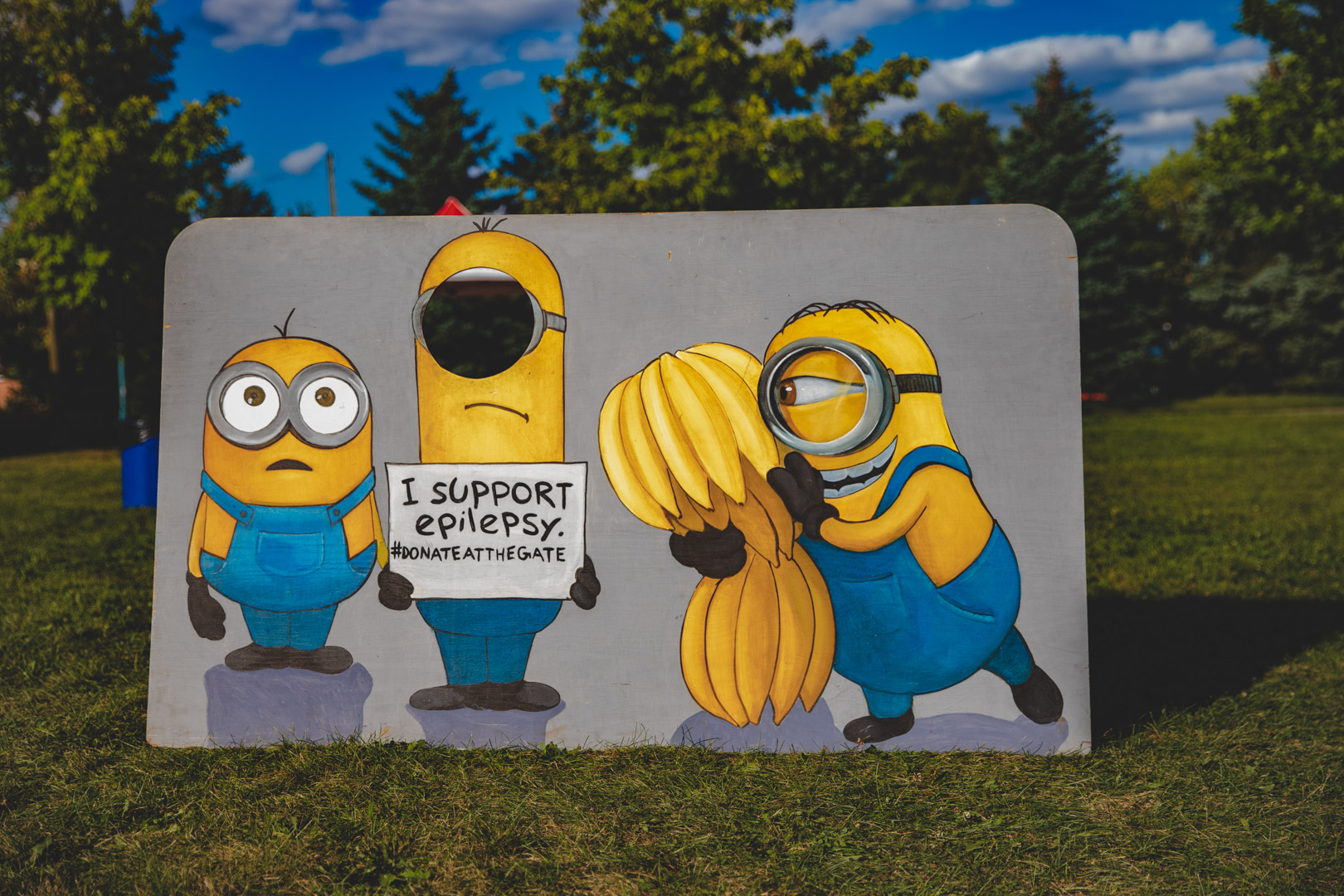 #DonateAtTheGate
This is the biggest fundraising event that Epilepsy Toronto has which is important for them to bring patrons of the BuskerFest an awareness that 1 in 100 Canadians has a form of epilepsy.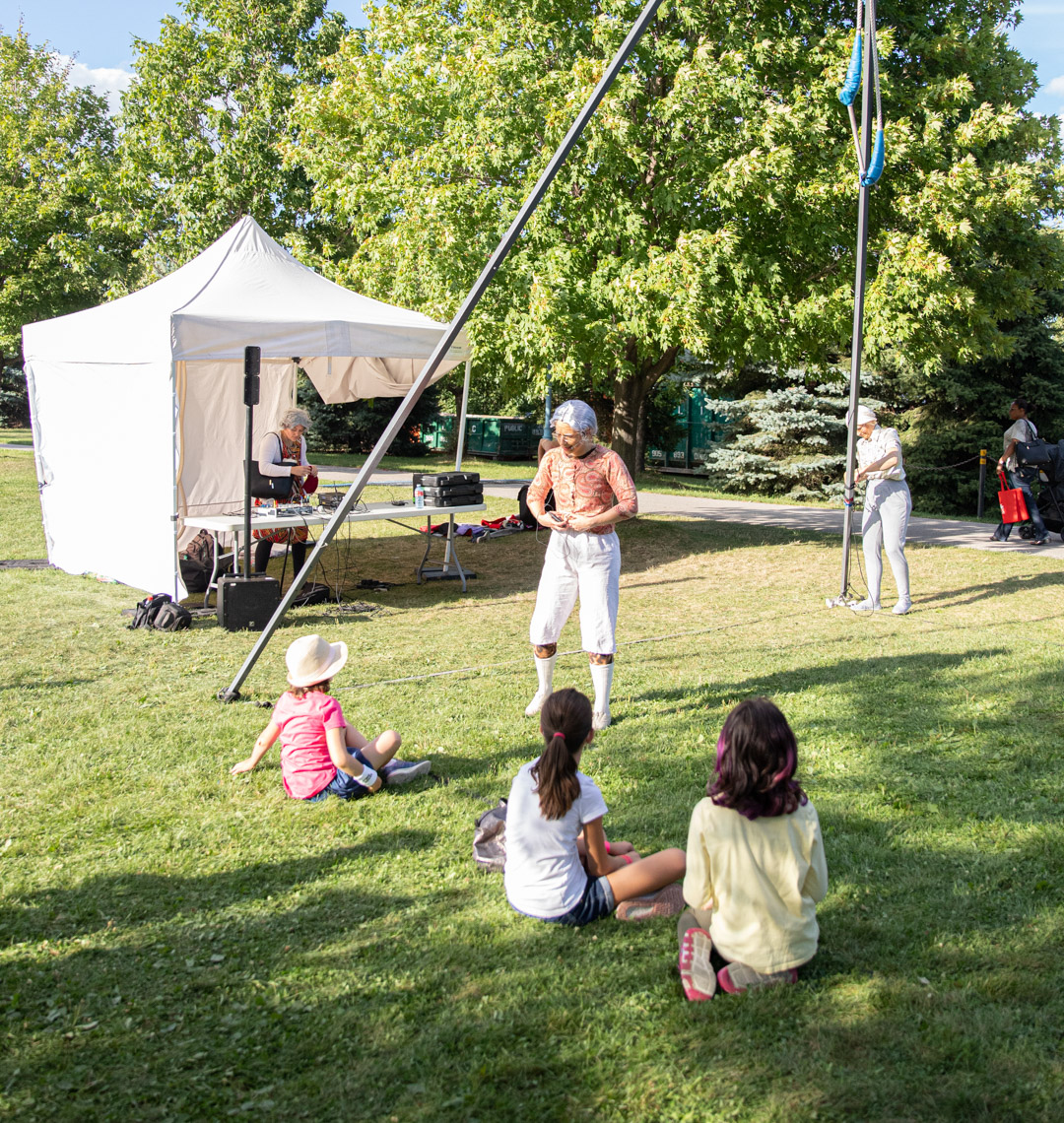 Stupendous Silver Sisters
While exploring the Family Fun Zone we noticed a small gathering of kids and a lady with silver hair speaking with the kids.
Stupendous Silver Sisters
These ladies go on to explain that the show that was scheduled for this time slot had been cancelled and were trying to get the Audience to help them figure out what could be done. As we all know the show must go on!
Dog Friendly Event
As more people gather to watch The Stupendous Silver Sisters This little guy found us. As you can see she/he was very excited to see us.
Stupendous Silver Sisters
And So it begins, the have drawn a crowd and now it's time to give the audience a show.
Stupendous Silver Sisters
And so the custom adjustment and the song and dance that went along with it thoroughly amused the audience which was the lead up to the aerial acrobatic show.
Stupendous Silver Sisters
All throughout this performance, there was something for everyone. These ladies really put on a good show not just for the kids but the many adults who were also in attendance.
Stupendous Silver Sisters
As you can see by the crowd that has formed, everyone was really into the show. At one point there was a brief pause to explain to the crowd who they were and how they started to these performances. There is something to be said about being able to understand the performers that you have been watching for the last 15 minutes. Especially for kids, it can be inspiring. They also asked for the audience to reach into there pockets and be generous. "Pay what you feel it's worth."
These were just a few pictures of the Stupendous Silver Sisters to highlight their performance. If you ever get a chance to see them live I would highly recommend it.
For more information on The Stupendous Silver Sisters CLICK HERE
Madame Guillotine - The Last Supper
Just as Stupendous Silver Sisters performance ended there was a gathering near by. Now at this point, I should mention that we had no particular performances that we were trying to see. That's what made our experience that much better!
Madame Guillotine will take you for a ride.
Wipped Cream
It is exactly like a roller coaster ride. It's predictable in its name. It's the "how" that is unknown.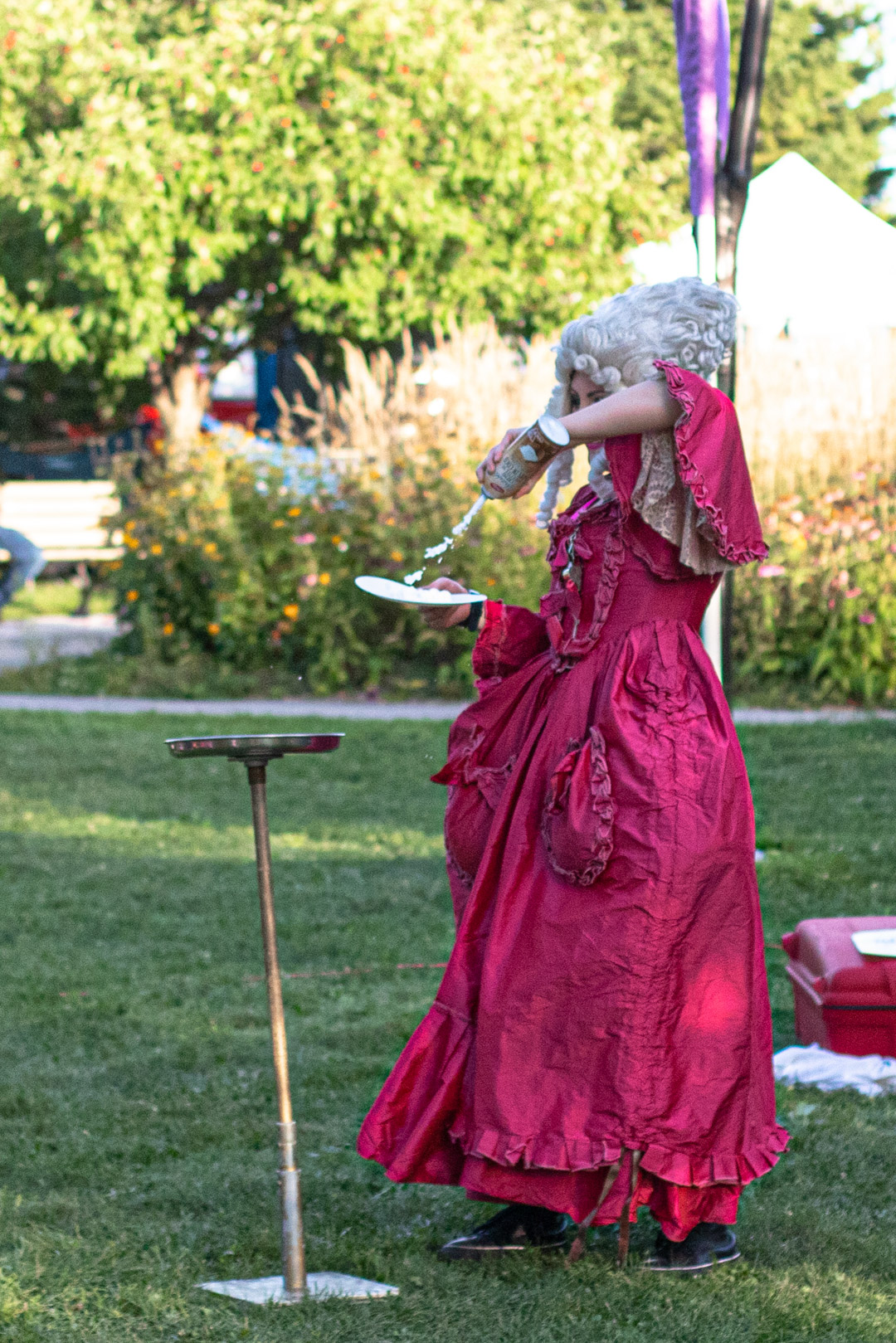 Close-up
How you go from start to finish is really the entertainment to this act.
The Spoon
At this point, I think that it would be appropriate to mention that Madame Guillotine who is playing Marie Antoinette is a mime performer.
Close-up
The last supper was nothing more than whipped cream on a spoon. But it was funny to watch.
Le Duel
There is a duel - of course.
L'Exécution
And there is a winner and the unfortunate loser. It's obvious what happens next. The photos taken of this performance are highlights. It was a lot of fun to watch this performance from beginning to end.
Of course, it's important to remember that you should pay the busker what you feel the performance is worth.
You can read more about this character by CLICK HERE
Mr. Bones
We walked by Mr. Bones as this show looked to be wrapping up.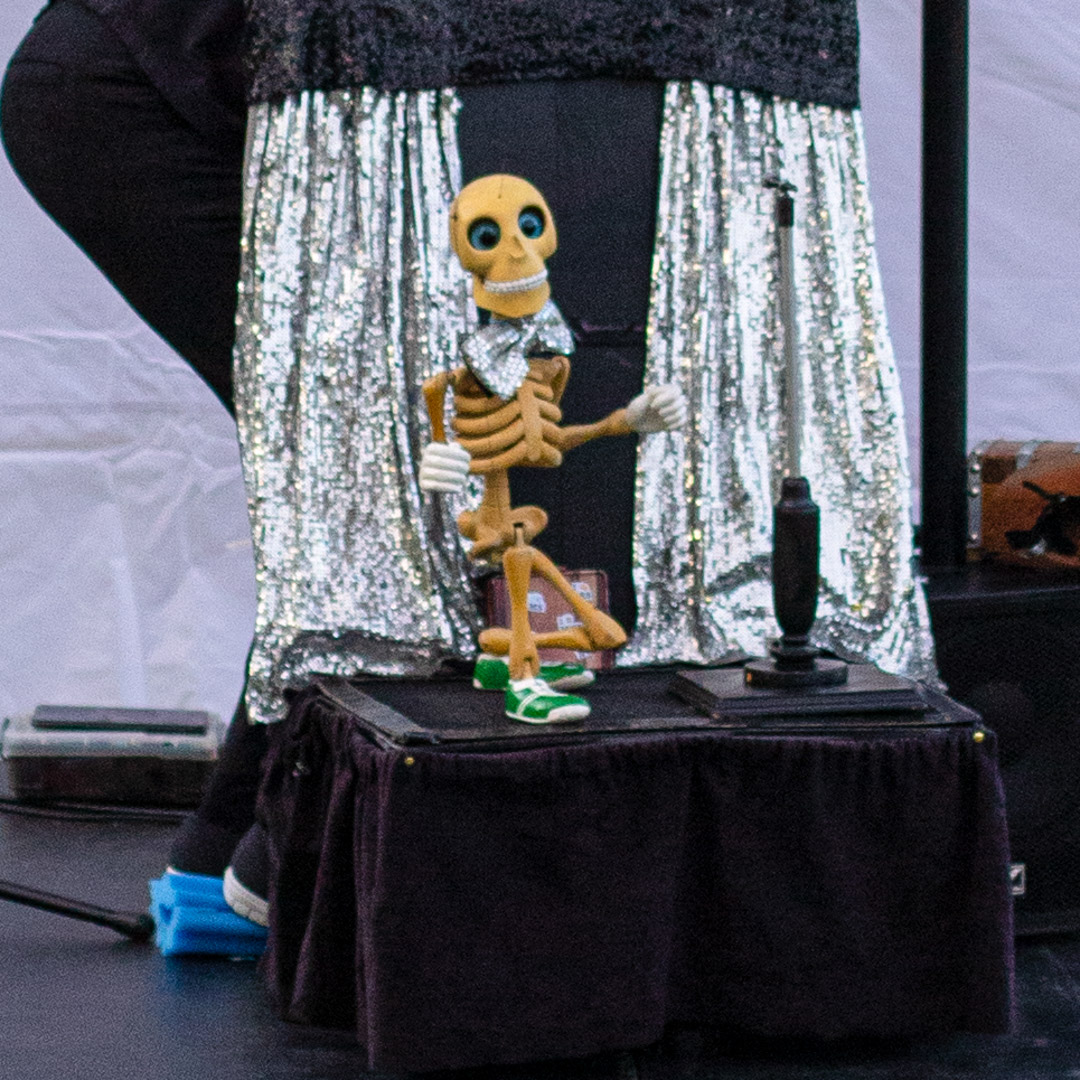 Close-up
Mr. Bones is a marionette or puppet that moved around on strings. This was fun to watch for the couple of minutes that we did.
I couldn't find any additional information for Mr. Bones. It would have been nice to see the whole performance. Oh well, there is always next time!
Kromatik
Walking after seeing the Mr. Bones performance we came across Kromatik who does most beautiful makeup you can imagine. It is unreall how alive and vivid the colours are.
For more on Kromatik CLICK HERE
Mist Tent
There is always someone walking through the mist tent. Kids seem to be really amused by it.
Silver Elvis
Off in the distance, we could see this silver-colored statue.
Silver Elvis
It was none other than Silver Elvis.
Posing
He was a very engaging person. He encouraged us to take pictures of him.
Silver Elvis
He offered advice on what might be a good backdrop. This mural was completed by Kevin Hunt.
Silver Elvis
He was very proud of his silver bike.
Silver Elvis
If you ever get a chance to speak with him, it will be a fun conversation.
Instagram HERE
Ben Down Art Market By Kevin Hunt
Here are some more art pieces that were created by Kevin Hunt.
Hey Juice
There were plenty of food vendors as you will see from the pictures. Something is quite misleading is that there is no one at these food vendors. There is a reason for that. They are currently watching buskers perform.
This is Hey Juice and for more information on what they serve
Close-up
We really liked the arrangement of the pineapple among all the watermelons. This picture also shows a huge crowd in the background which speaks to the previous point made about the people watching the performances.
Ontario Corn Roasters
People lining up for a corn-on-the-cob.
Wrestlers
More information on what Wrestlers offers CLICK HERE
Looking Inside The Little Big Top
After walking through the food vendors, we walked by the Little Big Top. As you can see, there is a crowd inside. Let's take a look and see what everyone is looking at.
Lucky Barber Show
Inside we see the performer Lucky Barber Show speaking to the crowd. He was looking for a volunteer to come up to lift his heavy bag.
Lucky Barber Show
We couldn't stay for too long because The Little Big Top was packed and there were children behind where we were standing. We wanted them to have the chance to see this show.
Close-up
For more information on Lucky Barber Shop CLICK HERE
The Ultimate Funnel Cake - The Ultimate Funnel Cake
A view of more food vendors on our way to the gazebo.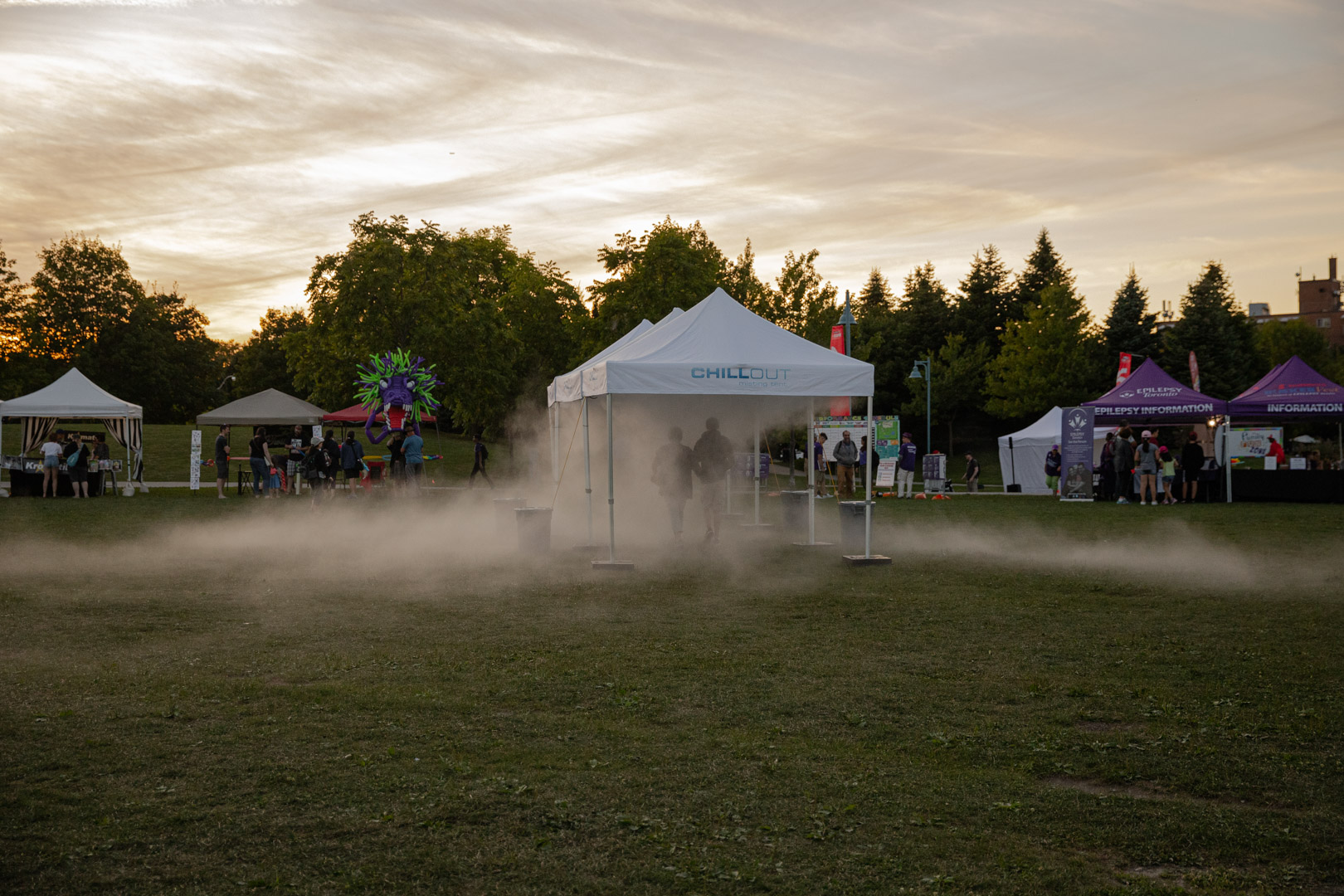 The Mist Tent
There is the mist tent again and as usual people walking through.
Where did everyone go?
There must be more performances happening and I think I hear someone speaking near the Gazebo.
They're On There Way To Another Act
The Circus Drummer
We caught the very end of this performance by the Circus Drummer.
View Of The Crowd Watching Mat Ricardo
A crowd watching Mat Ricardo who was the winner of the 2019 People's Choice Award. We caught this performance after it began.
For more information on this performer CLICK HERE
Close-up Of The Buskerfest Sign
Toronto Skyline
On top of the hill in Woodbine Park enjoying the view of the festival and skyline in the distance with the sun setting. Below are more pictures of the sunset in a slide show.
Bendy Em
This is Bendy Em getting out of that very small box with a Soccer Ball. And yes she can fit in there with the Soccoer ball with the door closed. It was something to see.
More information on Bendy Em CLICK HERE
The next picture is a close up of Bendy Em The Box that she squeezed in to.
Great Lakes Brewery Beer Garden
This was the first time there was a Beer Garden at BuskerFest. It seemed like a popular spot for people to sit and enjoy the day.
More information on Great Lakes Brewery beer CLICK HERE
Sun Light Is Almost Gone
At this point we were looking for another performance and we walked toward the western part of the park.
People Lined Up At The Food Venders Before The Next Show
Some People Waiting For Food And Others Going To The Next Show
The Little Big Top
As we walked westward i noticed that there were still people inside The Little Big Top and at some of the concession stands.
No One At The Venders
As we made our way to the huge crowd that had formed at the west end of the park I noticed all the concession stands were empty.
Les Dudes
There was a huge crowd that had formed, we missed the first part of the show. Luck for us there was a great viewing point on the left part of the stage.
The Hoop
This is Les Dudes and they were alot fun to watch as well. There were Hoops.
3 Hoops
There were more Hoops. And at one point there was even a Red Card like the referee gives to a player in Soccer.
Unicycle And Knife Juggling
And then there was a unicycle and Knife Juggling and it really was an interesting balancing act.
Remember these few pictures that we show are only the highlights from the performances that we attended.
Talking to the Audience
If you ever have the opportunity to see a performance by Les Dudes we would really recommend it. Seeing the way the Knife Juggling and Unicycle act turns out is something to see.
For more Information on Les Dudes Click Here
People Lined Up At The Venders
After the performance of Les Dudes there was a rush of people to the food vendors. We were making our way back to The Gazebo for the last performance of the night.
View of the Gazeboo and The Night Sky
We walked part way up the hill to view the beautiful night sky just before the last performance started.
SUPERFIRE
They were certainly exciting and fun to watch. Below is a slide show from SUPERFIRE'S performance.
The Lemon Bucket Orkestra
Once the performance from SUPERFIRE was over the band started playing inside the Beer Garden.
The Lemon Bucket Orkestra
The Lemon Bucket Orkestra
More information on The Lemon Bucket Orkestra CLICK HERE
The Midway
as were were leaving we took this picture of the Midway along with the skyline in the background.
This was a fun adventure in to the world of Buskers and there were so many other performers we wished we could have seen. What we really liked most about all the performances was they were unique and engaging. You never felt like they were dragging. It is really hard to say which show was better than the other. It mush have been a really difficult task to pick the consumer choice award.
Thank you for looking and reading our blog we hope to see you for our next one, Bye for now.